Household and Office Chores Made Easier With Professional Cleaning Services
Household and office chores such as cleaning can be very tiring especially when much work is required and less time is available. For instance, cleaning the office can be monotonous and stressing especially when there are more important work to do. That is why cleaning services offered by different companies are needed by establishments and households.
Why the need for professional cleaning services?
Sweeping, mopping, dusting, and scrubbing on a daily basis can become an overwhelming task especially if not properly distributed. Cleaning services make these tasks a lot easier and a well-organized leaving households, offices, hallway areas, etc. spotless and good as new. Hiring professional cleaning services can ensure its clients that only quality services are given since new technology and tools are used by companies.
Moreover, commercial cleaning services can save time and effort without compromising the quality of the job. Professional cleaning servicestake care of all cleaning responsibilities which include vacuuming, trash collection, polishing, sealing, and even cleaning the carpets.
In New Jersey, where numerous households and establishments are situated, fast and affordable cleaning services are needed. Good thing Esteves Carpet Cleaning can do the job!
Esteves Cleaning Services

Esteves Carpet Cleaning is a family owned business that started in 2004. Their commitment is to guarantee customers that only the best cleaning services will be given to maintain their legacy throughout the years. Their goal is to ensure that proper customer care and quality work is provided for every client that comes their way.
Their company have expanded to provide quality cleaning services in New Jersey and nearby cities such as South Plainfield, Edison, Woodbridge, Perth Amboy, South Amboy, Fords, Linden, Avenel and most of all Middlesex County. Esteves Carpet Cleaning has been providing clients affordable yet above-the-top services for over eight years already.
How to access cleaning services online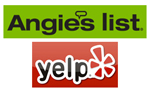 Services like what Esteves Carpet Cleaning can offer can be accessed easier through the internet. For instance, blog and peer reviews such as Angies List (angieslist.com) and Yelp* (yelp.com) can recommend companies that offer cleaning services that are fast, affordable, and within your proximity.
Moreover, professional cleaning services also offer quality customer care that contacts customers concerning cleaning preferences, questions, comments, and suggestions through their website and offices.
Cleaning services available in New Jersey has now made tedious chores easier for households and even for commercial spaces. Several companies specialised in carpet cleaning, residential and commercial cleaning, tile and grout cleaning, floor stripping and waxing, etc. can now ensure that your home and office can be good as new in just a click.